Professor Angela Morgan leads the Translational Centre for Speech Disorders in groundbreaking NHMRC CRE research program
Posted on

September 14, 2023

by

Gloria Macan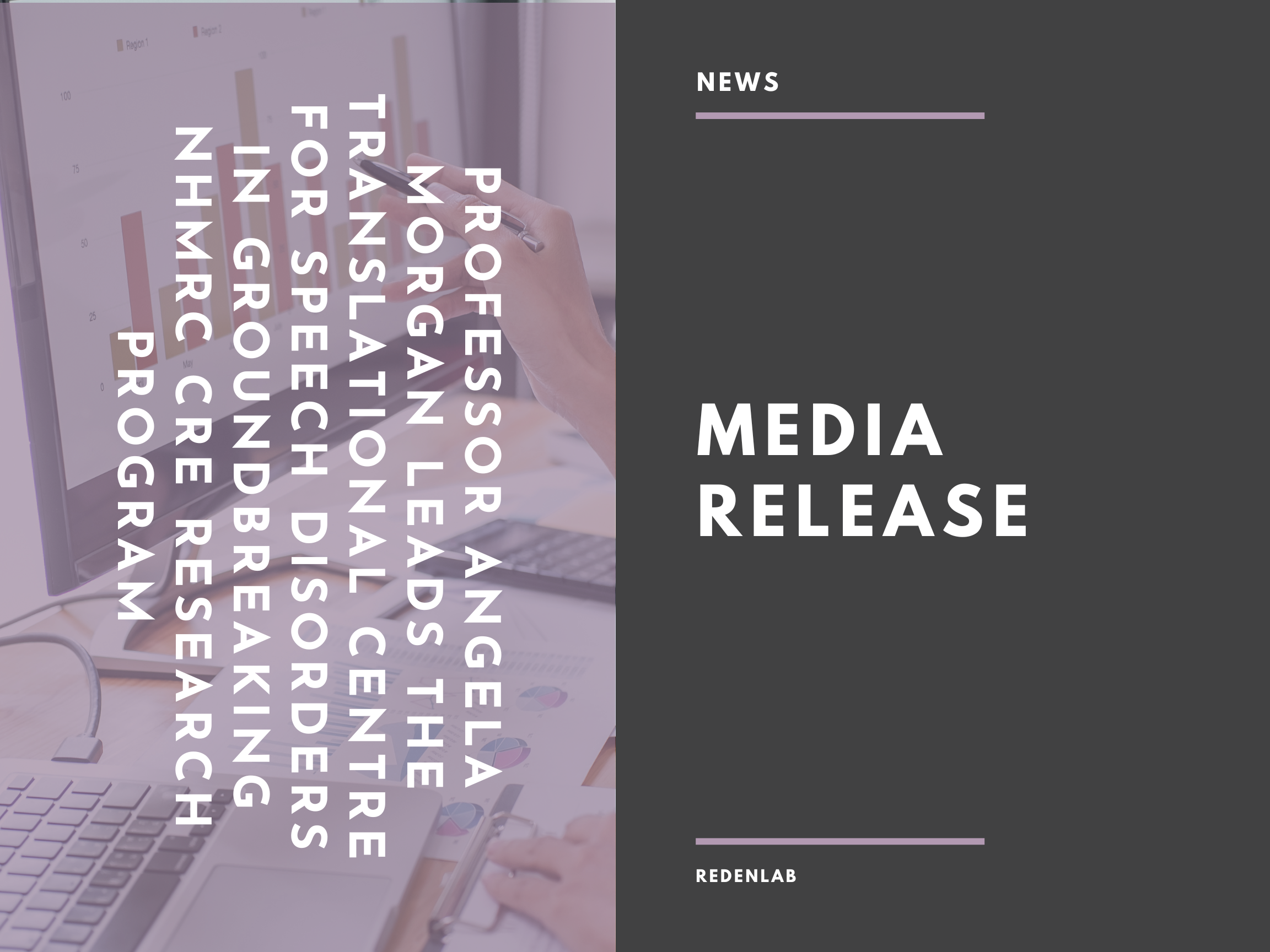 Redenlab, a leading provider of innovative solutions in the field of pediatric and neurodevelopment communication, proudly announces that Professor Angela Morgan, the Director of Pediatric/Neurodevelopment Communication at Redenlab, will lead the Translational Centre for Speech Disorders. This pioneering research program, funded by the National Health and Medical Research Council (NHMRC) Centres of Research Excellence (CRE) initiative, launches in 2023. It is a collaborative effort led by the University of Melbourne and the Murdoch Children's Research Institute, partnering with prestigious clinical and academic institutions nationwide.
Professor Angela Morgan, an internationally recognised expert in the field of speech disorders, brings her wealth of experience and expertise to lead the Translational Centre for Speech Disorders. In her role as the Director of Pediatric/Neurodevelopment Communication at Redenlab, Professor Morgan has consistently demonstrated her commitment to advancing the field and improving the lives of individuals with communication challenges. The Translational Centre for Speech Disorders aims to bridge the gap between research and clinical practice, focusing on developing innovative approaches and interventions for children and individuals with neurodevelopmental disorders. The program seeks to enhance communication and language skills, ultimately improving overall quality of life.
"As the Director of Pediatric/Neurodevelopment Communication at Redenlab, I am honored to lead the Translational Centre for Speech Disorders," expressed Professor Angela Morgan. "This dedicated funding will enable us to train health professionals and drive research in the area of speech disorders, making a significant impact on the lives of children and individuals with communication challenges."
The NHMRC CRE collaboration brings together leading institutions including the Walter and Eliza Hall Institute, Queensland Children's Hospital, Royal Children's Hospital Melbourne, Macquarie University, University of Queensland, Sydney Children's Hospital Network, Hunter Genetics, University of Adelaide, Curtin University, Perth Children's Hospital, the University of Tasmania, and Royal Hobart Hospital.
The Translational Centre for Speech Disorders focuses on severe speech disorders of childhood, which often carry lifelong burdens of poor literacy, limited academic attainment, and restricted social and employment opportunities. These disorders significantly impact individuals' psychosocial well-being due to daily communication breakdowns.
One of the center's primary objectives is to deepen the understanding of severe speech conditions such as childhood apraxia of speech. Professor Morgan's team has made remarkable progress in identifying genetic causes for these disorders, finding that approximately one in three children have a genetic basis for their condition. Furthermore, the center places great importance on research training, with the grant supporting the education of numerous multi-disciplinary-focused PhD students and post-doctoral fellows.
Professor Morgan extends an invitation to dedicated and passionate researchers from multiple disciplines to join this groundbreaking initiative. During 2023, key roles associated with the grant will be advertised, and interested individuals are encouraged to get in touch. The Translational Centre for Speech Disorders seeks exceptional researchers who are not only academically talented but also deeply committed to making a positive difference in the lives of children with communication disorders.
For more information about the Translational Centre for Speech Disorders and its research program, please visit the official website of the Department of Audiology & Speech Pathology at the University of Melbourne.
For media inquiries, please contact:
Gloria Macan
Director, Marketing and Communications
Redenlab
Gmacan@redenlab.com
About Redenlab:
Redenlab is a leading techbio company specialising in speech analysis and linguistic assessment tools. With a mission to enhance decision-making in clinical trials and healthcare research, Redenlab leverages leading knowledge in communication and technology to measure and analyse speech patterns, providing valuable insights into neurological conditions. Their innovative solutions are paving the way for improved monitoring and diagnostics, personalised treatment plans, and transformative advancements in neuroscience research.